Spectacular hexagonal volcanic columns are the highlight of this boat tour. As most offshore islands in Sai Kung are remote, boat tour provides the best way for visitors to appreciate their scenic beauty. In addition, one can see the diverse morphology of sea caves, sea stacks and sea arches, as well as depositional landforms such as beaches and tombolos. Visitors can undertake the boat tours by hiring ferries at Sai Kung Pier, and follow the suggested summer route/winter route. (Please click here for more details.)
(a) Sharp Island Geo Trail (1 km for return route, 1 hour)


This 1 kilometre trail is located at the coast on the western side of Sharp Island. Along the route one can see volcanic rocks from different geological periods, such as agglomerate, eutaxite and rhyolite, which serves as an ideal location for studying volcanic rocks. A tombolo is linked between Sharp Island and Kiu Tau. (Please click here for more details.)
Remarks: Visitors should note the fidal levels before crossing the tombolo.
Reference:
Hong Kong Global Geopar of China "Geo-tour Routes in Sai Kung Volcanic Rock Region" (Leaflet)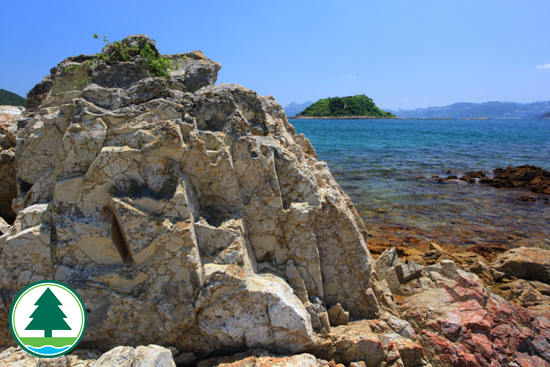 (b)
Jin
Island

Jin island is located at the south of Kau Sai Chau in Sai Kung. Jin is separated from its partner island Kau Sai Chau by an extremely narrow channel. The southern part of Jin Island was being eroded by waves which led the head land was separated from the main rock to form a sea stack called "Tiu Chung Rock". Since the sea stack has a crooked shape that looks like "Goldfish waves the tail". As the erosion proceeds, there is a 30m high long sea arch developed called "Tiu Chung Arch" which is rated as the most beautiful of its kind in Hong Kong. "Tiu Chung Arch" shaped as a bell in temple, it looks like a golden bell when the sunshine lights it up.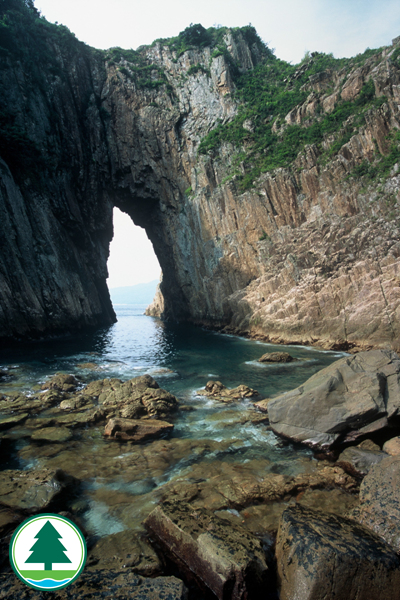 (c) Ung Kong Group

Together known as the Ung Kong Group, Wang Chau, Basalt Island and Bluff Island consist of hexagonal columns, which are well exposed along the coast. The southeast-facing coastlines, attacked by the relentless waves and wind, showcase some spectacular columnar joints and precipitous cliffs. The 30m-high long sea arch at Wang Chau, the 45m-high sea arch at Basalt Island and the Tiu Chung Arch at Jin Island have entered the list of top four sea arches in Hong Kong. (Please click here for more details.)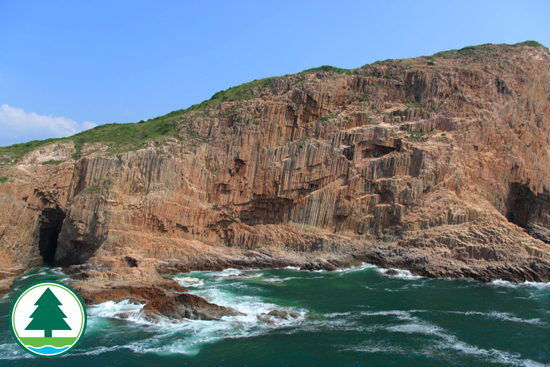 (d) NinepinIsland

The Ninepin group is made up of three larger islands, namely EastNinepinIsland, SouthNinepinIsland and NorthNinepinIsland, and several small rock islets. Imposing hexagonal columns of NorthNinepinIsland are particularly breathtaking. Long-term wind and wave erosion of rocks with joints has resulted in many peculiar abrasion landforms. The hexagonal rock columns here are measured over 2 m in diameter, ranking first in the region. (Please click here for more details.)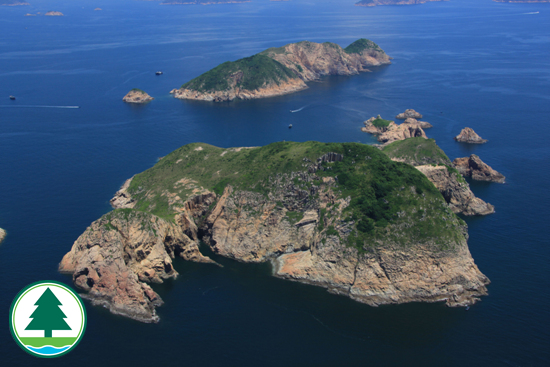 (e) Po Pin chau

The island that resembles an isosceles triangle by the east dam of High Island Reservoir is the famous Po Pin Chau. The island is an excellent place to see a typical sea stack landform. Here, a hill was cut in half by natural erosion processes and a gigantic sea stack came to being. Po Pin Chau was once part of High Island. Long years of erosion have separated it from the mainland. Today this islet and High Island stand closely opposite, with just a narrow strip of water between them. High Island and the surrounding region is volcanic rock terrain. Rock stacks on the shore of Po Pin Chau tower almost vertically in the middle of the sea. The rock face looks just like a giant pipe organ. In the north, the rugged rock consists of a slope and an intertidal platform. The southern scene is entirely different. High Island rears up majestically in the near distance, while Po Pin Chau flaunts her slanting acidic volcanic rock face which is perfect and even. The top is covered with green plants. Down below brown rock braves the raging sea. It is an exhilarating sight.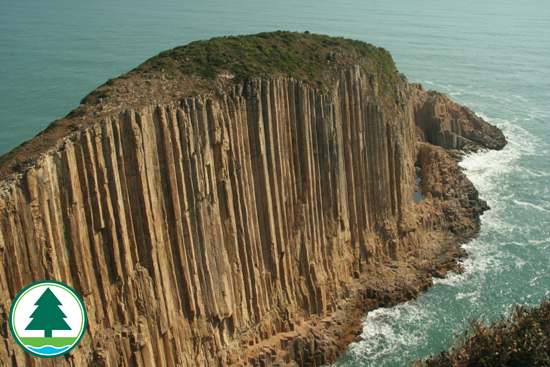 (f) Kau Sai Chau

Kau Sai Chau is the largest outlying island in Sai Kung. It is also Hong Kong's third largest island, ranking after Lantau and Lamma. It is 4 km long from north to south, and more than 2 km wide. Three closely set peaks on the island rise more than 200m above sea level. The narrow channel that separates kau Sai Chau from Jin Island is only 30 metres wide. From a distance the two islands seem like one, and the water is so shallow that it is inaccessible to junks and big sampans at low tide. The island's indented shores are bejewelled with deep secluded bays. Amongst them Kau Sai Wan is most outstanding. The best way to see Kau Sai Chau is by sea. After sailing around the island, get ashore for a pleasant hike. Travelling south from the east coast, you can enjoy a great showcase of precipitous rock cliffs, unusual rock formations, bays and coves, jagged spurs and breathtaking wave cut features. The variation is ravishing.
Useful links:
Other links: