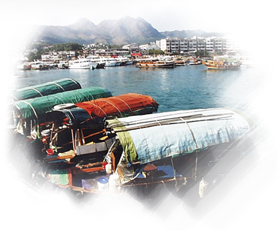 Overview
The
Sai Kung District Council
, together with the support from various Government Departments and other organisations, has identified tourism development and promotion as a means to further improve the economy and employment opportunities within the District.
The Hong Kong Polytechnic University's School of Hotel and Tourism Management
was commissioned in 2007 to undertake a study to formulate a strategy and, more importantly, to assess the tourism potential of the District. The concept and action plan recommendations are as follows -
Pursue the "Greening" of Sai kung Town
Develop the Sai Kung Board Walk and Promenade
Establish & develop the Yeung Chau Nature Park
Develop and promote island-hopping itineraries
dentify or develop a signature food & snack
Promote traditional festivals and cultural festivals
Encourage cultural and heritage conservation
The Working Group adopts the suggestions of the Study partially and subsequently carrying out a series of works to enhance the tourism development in Sai Kung District.